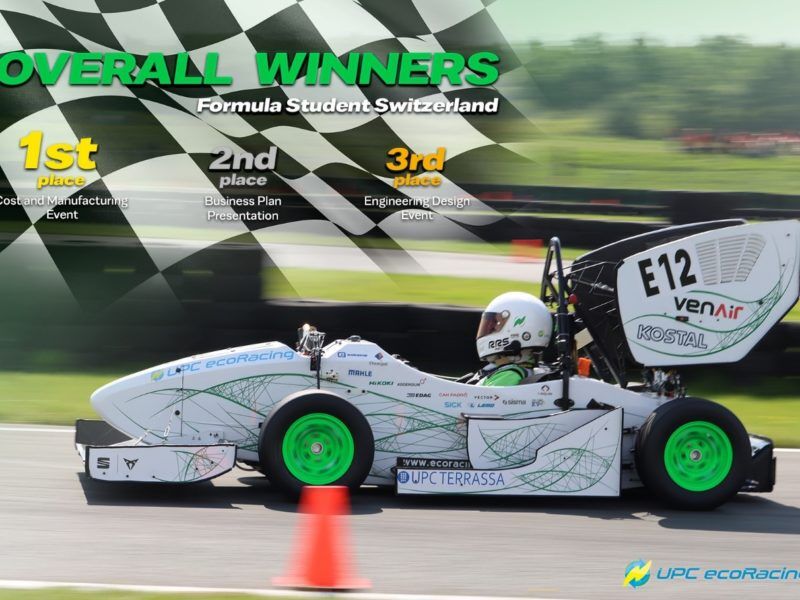 The UPC ecoRacing team, with whom Addendum has been actively collaborating for many years, finished in first position in the Formula Student Switzerland 2021!
The competition was against the best teams in Europe, and it managed to make the podium in all the events held, obtaining these trophies:
1st position in Cost & Manufacturing
2nd position in Business Plan
3rd position in Design Event
The perseverance and the good results in the three tests meant it achieved the best score in the competition. In the previous competition, Formula Student Netherlands, it was already showing signs of being ready to lead the future:
TOP 5 in the acceleration test
TOP 5 in the fast lap test
Furthermore, the vehicle was the only one to pass the technical inspection on the first attempt, and one of the few to finish the 22 km endurance test. The car is not only fast but also reliable, as a result of the work carried out for three years by the UPC ecoRacing team from Terrassa, with the participation of Addendum.
In the next competition, Formula Student Spain, the first autonomous vehicle from UPC ecoRacing, the ecoRD, will be competing!
EcoRD presentation, subtitles in Spanish and English.